Leveraging Social Science and Artificial Intelligence to Improve Wellness through a Mobile Smart Phone Platform
Smart environments often focus on automation, augmentation, and providing insights of their inhabitants, but there is also an opportunity to initiate behavior change. At PARC, the Augmented Social Cognition group is focused on changing behaviors and attitudes of individuals in order to meet individual health goals and improve overall wellness. We accomplish this through a combination of social science that leverages teams of individuals, planning and adaptation systems that include user models to tailor health challenge programs, and conversational interactive artificial intelligence. These technologies are deployed on mobile smart phones and delivered through an application called Fittle. We leverage the ubiquitous nature of the phone to reinforce social contracts, provide momentary ecological interventions, and engage with the user throughout the day. This talk will present Fittle, discuss the underlying science, present results of pilot studies, and describe the work we are currently focused on and the challenges we face. The video of his talk can be watched here. An MP4 file of the talk can also be found here (right-click and save to download).
Speaker:
Dr. G. Michael Youngblood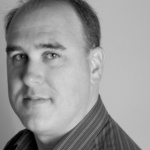 Bio:
Michael Youngblood is an interactive systems designer, architect, builder, and applied researcher. He focuses on mobile computing platforms and interactive artificial intelligence systems to facilitate positive behavior change in individual and social contexts. Before joining PARC, Michael led the Game Intelligence Group as an Associate Professor in the Department of Computer Science, College of Computing and Informatics, at the University of North Carolina at Charlotte. His well-funded research group conducted work in interactive artificial intelligence focusing on spatial reasoning representations, automated spatial decomposition techniques, dynamic behavior-based control, and tools to improve intelligent character creation. He founded and directed the Game Design & Development program at UNC Charlotte, which was the first dual graduate and undergraduate certificate program for games and interactive technologies in North Carolina.Michael received his Ph.D., M.S., and Honors B.S. in Computer Science and Engineering at The University of Texas at Arlington. His dissertation work focused on automating intelligent environments to reduce user interaction through user modeling, activity recognition/prediction, and machine learning. Michael serves on numerous program committees for international conferences and is the former general and program chair for both FLAIRS and AIIDE. He has authored more than 70 peer-reviewed publications in the fields of interactive artificial intelligence in games, automating intelligent environments, game education, and robotics. He received a best paper award at the Foundations of Digital Games in 2007. Michael is a member of AAAI, a Tau Beta Pi Fellow, and member of the DARPA Computer Sciences Study Group.