Socially Assistive Robotics: Hands-Off Human-Robot Interaction in Healthcare Domains
End Time:
Tue, 03/11/2014 - 10:30am
Socially assistive robotics is a novel approach to providing care to older adults, children with developmental challenges and those with disabilities or chronic illnesses. The work of the Interaction Lab focuses on developing robot-based technologies for hands-off social interaction in assistive contexts, working towards therapeutic goals. This talk will cover several projects from the Interaction Lab, including robots for coaching participants in post-stroke rehabilitation, augmenting therapies for children with autism, and teaching children about nutrition.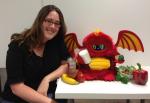 Bio:
Elaine Short is a PhD student and NSF Graduate Research Fellow in the Interaction Lab at the University of Southern California, working under the supervision of Maja Mataric. She graduated with a degree in computer science from Yale University in 2010, and received her master's degree from the University of Southern California in 2012. Her primary research is in the use of socially assistive robots for children.