Nathan Darnall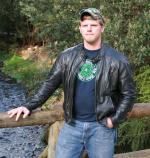 Department:
Mechanical Engineering
IGERT Fellow Since:
Summer 2010
Publications:
Darnall, N., Donovan, C., Aktar, S., Tseng, H., Barthelmess, P., Cohen, P., & Lin, D.C. (2012) Application of machine learning and numerical analysis to classify tremor in patients affected with essential tremor or Parkinson's disease. Gerontechnology Quarterly J 2012; 10(4).
Darnall, N., Mishra, V., Jayaram, S., & Jayaram, U. (2011) VR-SMART: a virtual reality system for smart home environments. ASME IDET/CIE Conference 2011.
Research Description:
Nathan Darnall is a Mechanical Engineering PhD graduate student and IGERT fellow at the College of Engineering and Architecture at Washington State University in Pullman, Washington. Having obtained his Bachelors of Science in Mechanical Engineering degree from WSU in 2002, Nathan has a background applying CAD modeling and simulation techniques to industrial machinery design for international markets. Beginning in 2009 at WSU's Virtual Reality and Computer Integrated Manufacturing (VRCIM) Laboratory, Nathan researched new methods to assist elderly and disabled adults in activities of daily living (ADLs) by applying motion capture, virtual reality, and CAD technologies to smart home environments. Nathan has collaborated with psychology, electrical engineering, and computer science departments on a study exploring the reliability of gyroscopic and digital pen spiral tracing data, analyzed both numerically and by machine learning algorithms, in reproducing clinical tremor rating scales in Parkinson's disease and Essential Tremor patients. Currently, Nathan is designing a study to instrument Parkinson's disease motor deficiencies in the daily lives of patients with the aim of providing the clinician with quantitative information about the disease's severity, progression, and impact on activities of daily living in the home.